On a gloriously sunny day during the Cannes Film Festival Ronit Raphael hosted the launch of the brand's latest innovations at L.RAPHAEL's Spa on the 7th floor of Hotel Martinez. The midday event concluded with a spectacular eveningwear catwalk show.
Every year like a rite of spring, L.RAPHAEL unveils new innovations at the Cannes Film Festival. Celebrities, filmmakers and VIPs from around the world gather on the French Rivera to attend the world's most prestigious film festival. Guests in-the-know make sure appointments are booked in advance at the L.RAPHAEL Beauty Spa at Hotel Martinez to get red-carpet-ready for this see-and-be-seen event.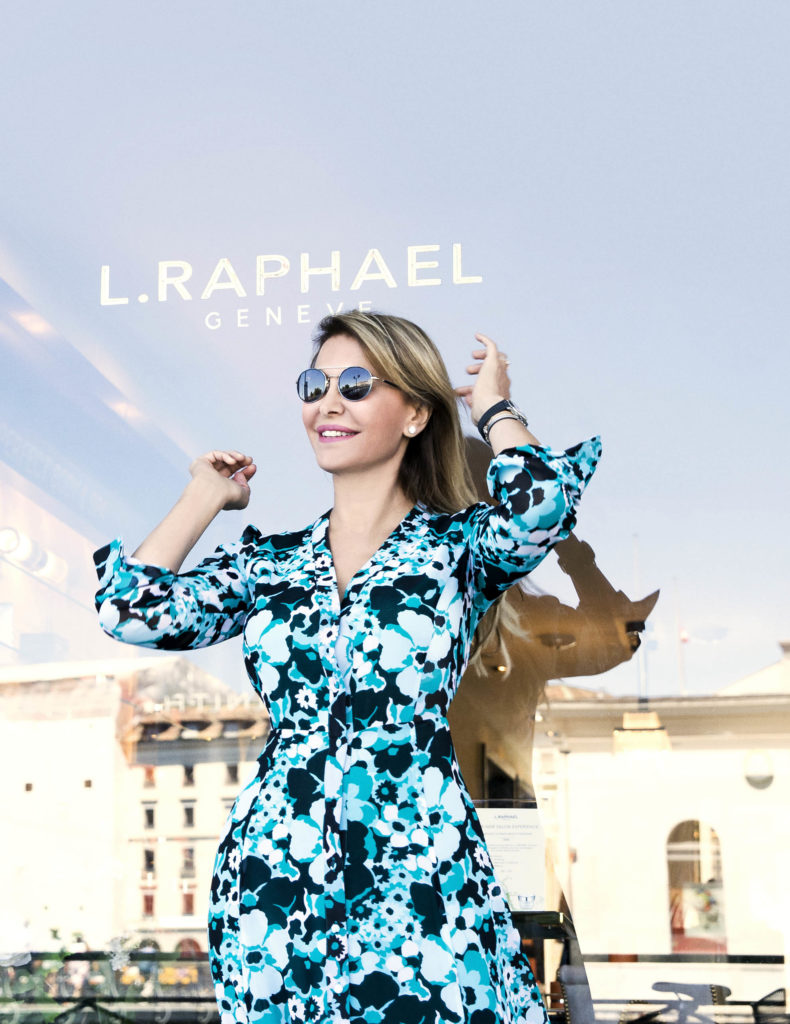 Beauty and jewellery alliance
Founder and President Ronit Raphael assisted by Head of research Professor Paolo Giacomoni spoke about the Swiss beauty brand's latest innovations. "What is very special for me this year is sharing the creation of our limited edition Diamond Powder Mask with Mrs Caroline Scheufele, the Artistic Director and Co-President of Chopard, who has provided the diamond powder," she said. "This marks the first time a luxury jewellery brand has collaborated with a luxury beauty brand."
The new Diamond Powder Mask provides immediate, red-carpet-ready results thanks to the glowing power of Chopard's diamond powder, and the long- term benefits of L.RAPHAEL's anti-aging Cure-C nutraceuticals.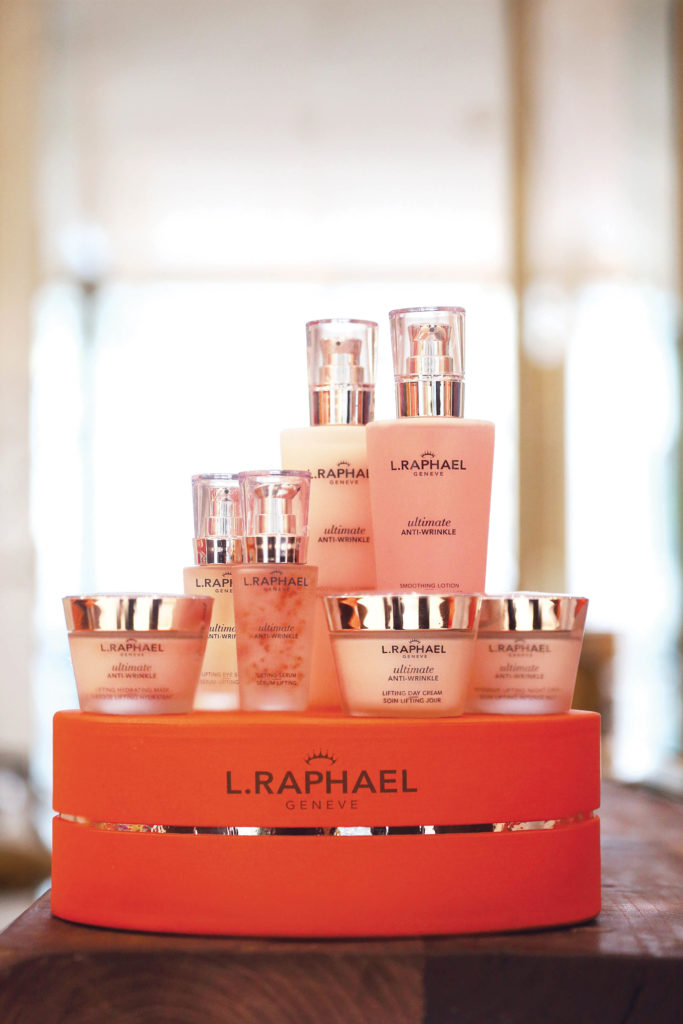 Diamonds are the strongest material on earth and diamond powder is a highly effective exfoliating ingredient that removes dead cells from the skin's upper layer allowing for better penetration of an active ingredients. The diamond powder gives the skin an instant glow, while Cure-C's scientifically proven formulation feeds the skin cells with potent ingredients and nutrients that produce lasting, anti-aging benefits.
Micro algae from Okinawa
Green Caviar Oxygen was the other innovation launched that day, as a treatment and skincare collection developed from extensive scientific research based on the benefits of green caviar found in Okinawa, Japan. Instead of caviar eggs farmed from endangered fish in the Caspian Sea, L.RAPHAEL's Green Caviar Oxygen contains the micro algae.
Scientific studies show that Green Caviar's unique, dermatological benefits include potent, positive, physical effects on skin cells anti-oxidant activity that counteracts free radicals strengthening of the base membrane of skin cells by stimulating production of essential proteins, including Laminin-5 and Collagen IV. "Once we learned about Green Caviar's cellular and structural effects, a window of opportunities was opened, enabling us to develop both treatment and products that provide consumer benefits based on this natural phenomenon," explained Prof. Paolo Giacomoni.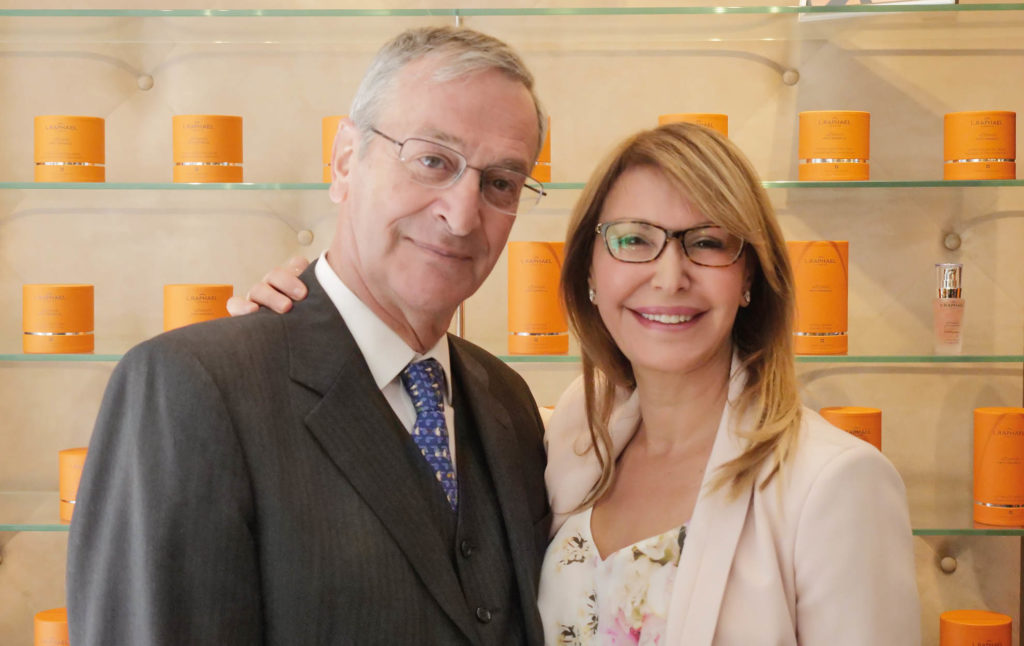 Oxy-Jet technology
The Oxy Green Caviar Treatment maximizes the benefits of the Green Caviar Oxygen skincare line as it is used in combination with the Oxy-Jet technology for deeper penetration of the active ingredients. L.RAPHAEL's Oxy-Jet technology consists of spraying pure oxygen combined with microscopic drops of physiological water in a pleasant operation by high-speed jet pressure. This slaps the skin and causes a controlled and precise peeling, so as to remove the upper layers of the epidermis, introducing pure oxygen into the skin inside microscopic droplets that form available oxygen reservoirs. The Oxy-Jet technology facilitates penetration of the Green Caviar, Niacinamide and LEC-40.
Skincare
Based in Switzerland, L.RAPHAEL is not only a five-star service beauty brand it is also at the forefront of the skincare technology, R&D and science of anti-aging. Through the years, L.RAPHAEL has revolutionized the beauty industry by first developing the Seven Foundations of Beauty, a holistic approach that today is common and adopted by all. It is also the first brand to offer comprehensive services dedicated to beauty under one roof in its spas around the world, which include but are not limited to L.RAPHAEL exclusive treatments and technology, sports and relaxation, micro-nutrition, medical services, and more.
The Swiss beauty brand is committed to scientific research and technology using high-pressured oxygen, ultrasound and anti-gravity therapies with results-driven formulations made from the highest quality ingredients. The brand's advanced-technology enables active ingredients to penetrate deep beneath the skin's surface where they are most effective in stimulating collagen production that dramatically reverses the signs of aging. With this in mind, every treatment is uniquely designed to reinvigorate the senses and restore peace of mind, while producing scientifically advanced, long-lasting skincare benefits.
Much more than a spa, product or treatment, L.RAPHAEL is a path to a healthier, more balanced lifestyle that helps capture the unmistakable look and feel of lasting, youthful vitality.
L.RAPHAEL's collection of luxury spas include Geneva, on the prestigious Rue du Rhone, Cannes at the Hotel Martinez, New York at the Four Seasons, Beverly Hills at the Montage and Jaffa, at the Luxury Collection Hotel.
By Sylvie Peron