By Sylvie Péron
In January, Vista announced exceptional performance for 2021. In February, it acquired Air Hamburg, one of Europe's leading charter operators. In March, its brand Visyajet continued its partnership with the Scuderia Ferrari team for the fourth year, and took delivery of its 10th industry flagship Bombardier Global 7500 aircraft in Montreal on March 29 which also marked Bombardier's 100th delivery of the ultra-long-range jet. 
With a current fleet of 10 such aircraft (or 10% of the world's global fleet), VistaJet is the largest operator of Global 7500s in the world.
With a range of 7,700 nm, and flying at a higher altitude (up to 51,000ft) than commercial jets, where the air is thinner, the aircraft is allowed to fly faster while burning less fuel. This aligns with VistaJet's commitment to become the first carbon neutral business aviation company by 2025. The company plans to welcome up to a total of 17 more Global 7500 aircraft into its fleet by the end of 2022.
On March 31, Vista announced the acquisition of US-based Jet Edge, the world's largest dedicated Gulfstream and Bombardier Challenger charter fleets. Some 40 of these are owned with the rest managed for owners.
Founded by Bill Papariella, a former Hollywood film executive who also worked at Sentient Jet and Marquis Jet, Jet Edge's maintenance facilities and lounges in Van Nuys and Teterboro Airport are part of the deal. Papariella will serve as Vista's chief business officer and the management team will remain in place.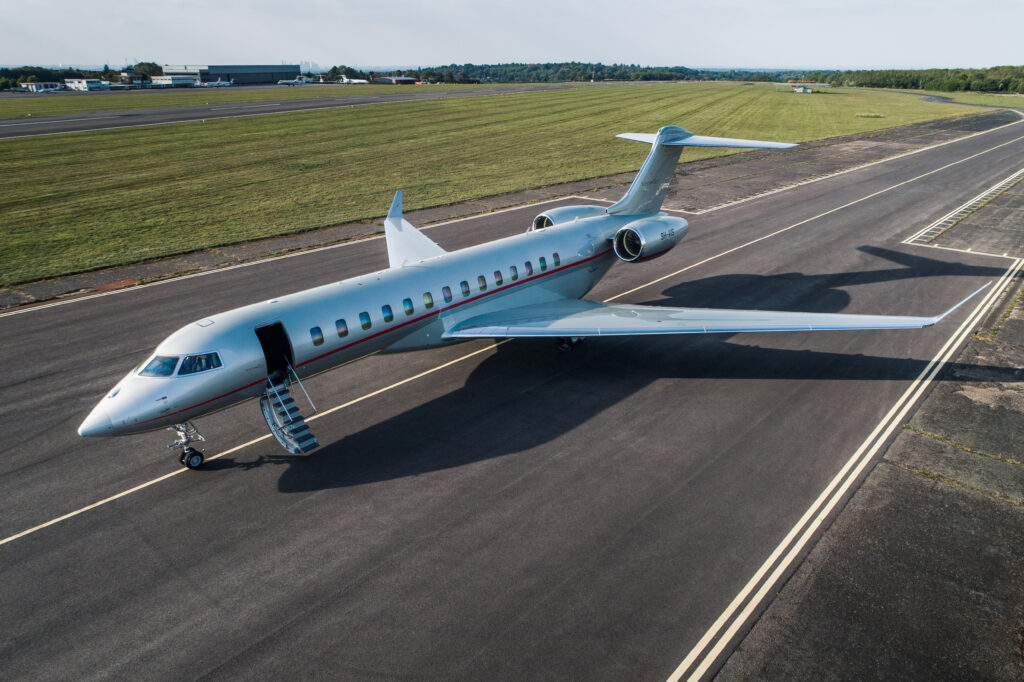 Ultimate Jet : Vista announced exceptional performance for all its operating divisions in 2021. How do you explain such a record-breaking year?
Thomas Flohr : 2021 saw an incredibly strong year for the Vista group of companies, and we have delivered all-time record-breaking figures as a result of the huge demand for our subscription, Membership and On Demand offerings.
We are continuing to dominate the business aviation world, by evolving and innovating every aspect of our services to provide the most advanced flying solutions at the very best value to our rapidly growing members' base. This is only possible thanks to our expanding team of dedicated and passionate colleagues with hundreds more aviation experts helping to deliver our services to the incoming demand during 2021. We are best placed in the industry to capture new opportunities and we expect strong business momentum and sustainable growth throughout 2022, as we remain extremely confident about the future.
What explains this boom in business aviation?
There is clearly a paradigm shift in the global client's view of private aviation and Vista's world-leading position has enabled clients across the globe to experience its benefits as a critical mobility solution. Vista's shared economy; asset light and subscription strategy is accelerating this trend.
Health and security continue to be fundamental to clients globally in their decision-making — with around 700 contact points when flying commercially against just 20 when flying private.
Operationally, reduced availability of commercial flight routes continues to be a factor as businesses need to travel to their headquarters around the world, and demand for travel within individuals continues to increase (e.g. Nice Airport: 50% of destinations not served with 1 terminal out of 2 closed).
You have mentioned a paradigm shift in the global client's view of private aviation. Do you believe this will last post-pandemic?
Demand for private aviation is thriving and Vista does not expect this to change for at least the next 12 to 18 months. The Group continues to capitalize on the gaps within the market — both organically and by adding specialist expertise into the Vista universe as demonstrated by the successful integration with Apollo Jets, Talon Air and Red Wing Aviation.
How many Global 7500 aircraft do you plan to add to the fleet in 2022?
We added a total of over 30 aircraft to the Group's fleet during 2021, strengthening Vista's over 200-strong fleet offering — and with the announcement of our acquisition of Air Hamburg this will take our fleet to over 240 aircraft.
Having a fleet of Global 7500 now fully operational has been a game-changing moment since its launch in 2021, and we will build on its success by adding even more new Global 7500 aircraft to strengthen our global offering by the end of 2022.
The refurbishment of VistaJet's Global and Challenger fleet is expected to complete by the end of 2022. Which MROs have been selected to do the job, and what new elements can customers expect?
Indeed — Vista remains fully committed to constantly upgrade its services across its entire fleet, ensuring Members have the most unparalleled in-flight experience. This includes upgrades to connectivity across the fleet.
We work with a number of trusted partners during this process.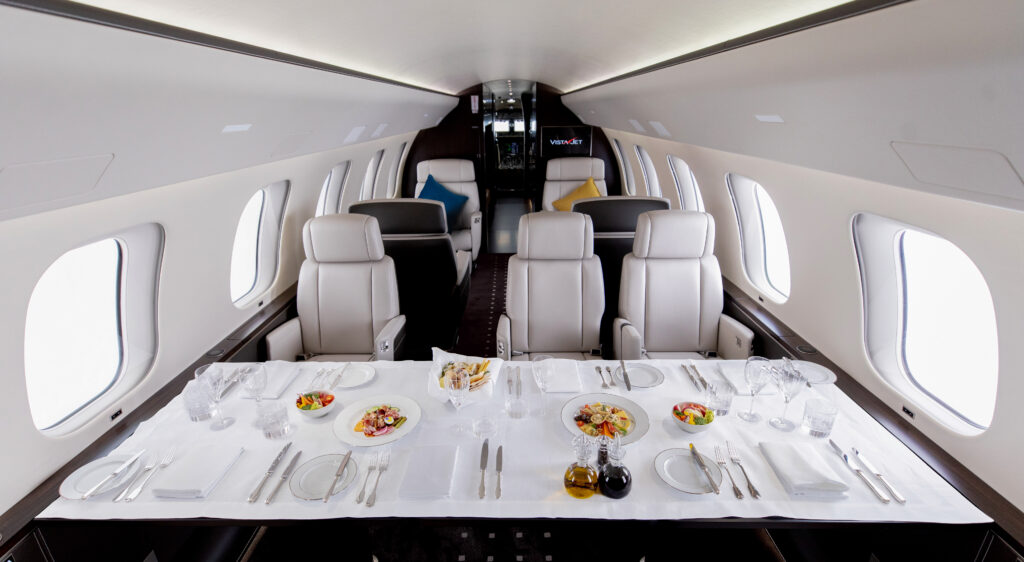 There is a fear of crew shortage looming on the horizon. What strategy are you implementing at Vista?
2021 was not without its challenges, as the global industry continues to face ongoing global supply chains challenges. Vista remains the only group with the global infrastructure and scale, including crew, along with the right balance of solutions and global network of partners, to support Members and corporations across the world anywhere and anytime.
We are seeing contract sizes grow significantly across both VistaJet and XO and we are working around the clock to ensure we have necessary infrastructure and capabilities in place to ensure the complete flexibility and diversification of our services in the most sustainable way.
VistaJet commits to being fully carbon neutral across its entire business by 2025. How do you plan to achieve this?
The Group recognizes the importance of acting now in the fight against climate change and continued to make significant progress against its strategic sustainability objectives.
VistaJet commits to carbon neutrality by 2025, pushing the industry to go further than the current objectives set by civil aviation industry bodies, IATA and the global business aviation community (50% reduction of emissions by 2050).
We are proud to have been able to offer access to Sustainable Aviation Fuel (SAF) to all our clients around the world, and over 85% of our clients offset their emissions. We will continue to develop more and more our current multi-pillared commitment — SAF, carbon offsets, renewable electricity on-the-ground, partnerships with climate actions companies, AI investments for routes and fleet optimization; in addition to investment in advance aircraft — the Global 7500 is the first and only aircraft with an Environmental Product Declaration.
The VistaJet commitment will serve as the blueprint to all Vista group companies.
We, with our partners and clients, will continue to actively seek and invest in new developments, look for new technology and innovations to further reduce its GHG footprint.
SAF is still considerably more expensive than regular jet fuel as well as in short supply. Please tell us about VistaJet's SAF Program.
Through our partner SkyNRG, VistaJet is able to offer all its clients the most sustainable, cost-effective and scalable solution to decarbonize their flights, through a book and claim system.
The book and claim system allows anyone around the world to invest in SAF even when not physically available at the departure airport. SAF will be delivered to an airport near the production location, minimizing supply chain emissions, where it is then added to the local supply.
The SAF delivered is tracked and verified, and the corresponding carbon emissions factors are calculated and allocated to the VistaJet customers, so that they can carbon offset.
The acquisition of Air Hamburg is complementary as both companies have similar business models. The most recent acquisition of Jet Edge, expected to close in the second quarter of 2022 is set to greatly expand Vista's U.S. footprint. When completed it will bring Vista Global's owned and managed fleet to 340 aircraft.