The Hong Kong house, famous for its know-how in traditional rug making, has opened a new showroom in the heart of Paris, in the first arrondissement. Located on 3, place des Victoires, very close to the historical neighborhood of high-end fabric editors, the showroom is open to trade professionals as well as retail customers, and is a hub for the French Tai Ping team.
Formerly known as the home of the Kenzo brand, the space is 500 sqm spanning two floors, with 300 sqm of dedicated showroom space. It has been entirely redesigned by French-American architect and interior decorator Elliott Barnes. After seventeen years as a managing director at Andrée Putman's firm in Paris, Elliott Barnes created his own agency in 2004. He is behind such prestigious projects as the reception rooms of Maison Ruinart in Reims, Ritz Carlton palace in Wolfsburg, Germany; and the refurbishment of the jazz Club 'Le Duc des Lombards' in Paris, among others.
"The starting point of this project was to give an artistic view to the famous know-how of Tai Ping," he says. Filled with natural light, with three windows overlooking the street, the showroom opens to a huge ceiling space, conceived as an art gallery where designer-rugs are exhibited.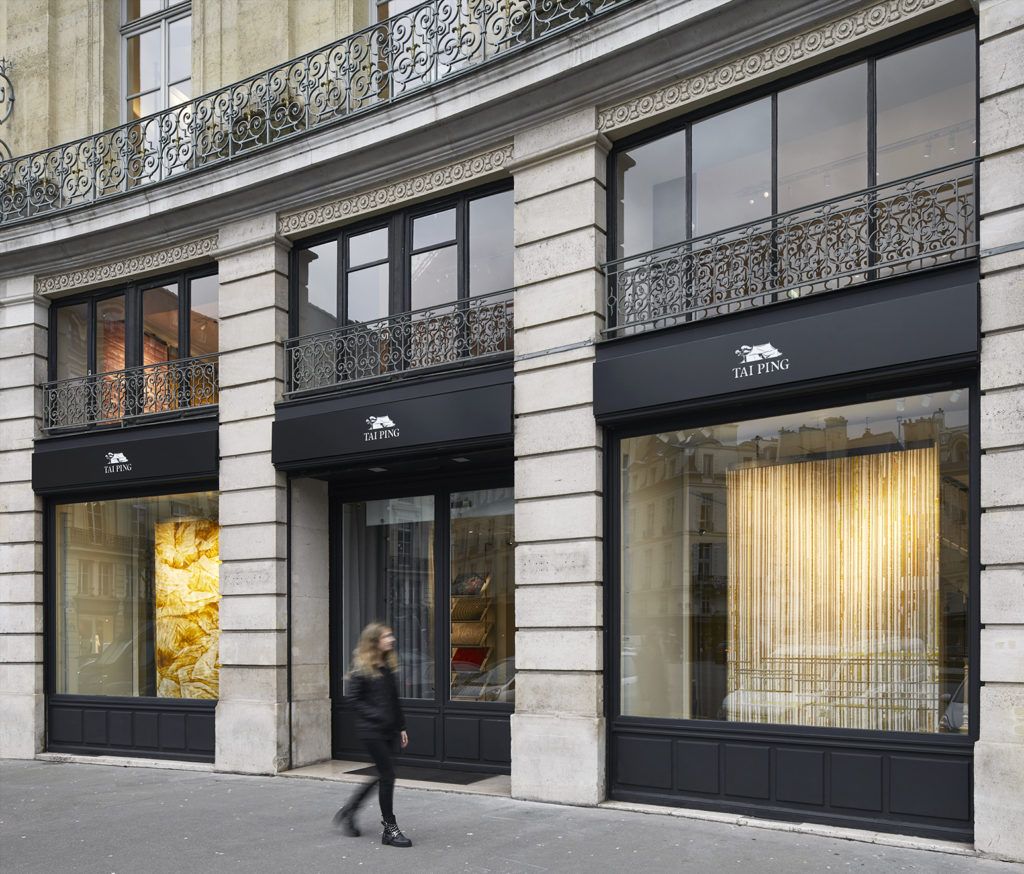 "I was also commissioned to develop a furniture program," adds Elliott Barnes. Shelves and custom-made display pieces are made from a traditional hardware material called Placocem, which is actually cement. "This particularly rough material helps to draw attention to the refinement, softness, elegance and natural beauty of any Tai Ping product," he adds. Here and there, custom designed lighting such as Iqanda up-cycled ostrich shells and a custom-made Washi paper pendant light for a meeting room have been custom designed by the architect.
The first floor, which benefits from a grand view over the place des Victoires and its bronze statue of Louis XIV, introduces a new concept of ready to purchase rugs for retail customers. Available in standard sizes, designs and colors, the pieces are made in wool and silk. They also benefit from the same know-how, quality expectation and production excellence as other Tai Ping products. To help trade customers in the development of their projects, comfortable workspaces have been designed. "Elliott perfectly succeeded in creating a fusion between the architecture of the space itself and Tai Ping's spirit to embody such notions as heritage, legacy, know-how transmission but also craftsmanship and responsibility, which have been so dear to Tai Ping since its creation in 1956," says Sophie You, in charge of Paris and Milan offices.