Clééia, is a new jewelry collection by the young Parisian Maison created by Marie-Alexandrine Yvernault. Bronze and silver, adorned with gold, are smelt into unique textures which seem to have been pricked with tiny rain drops, magnifying spellbinding semi-precious stones.
The designer, connected to earth and inspired by a keen poetic sensibility has imagined a collection featuring rough and organic textures, which conjure up the fantasy of light raindrops over metal that would be somewhat softened by the action of water. The technical achievement was carried out thanks to the amazing waxwork of Paris' most renowned craftsmen. The designer has nurtured a passion for Antiquity and mythological imagery. Her vestal cuffs and bib necklaces have born witness to this passion from the start. Her new line Clééia is named after the Greek rain nymph.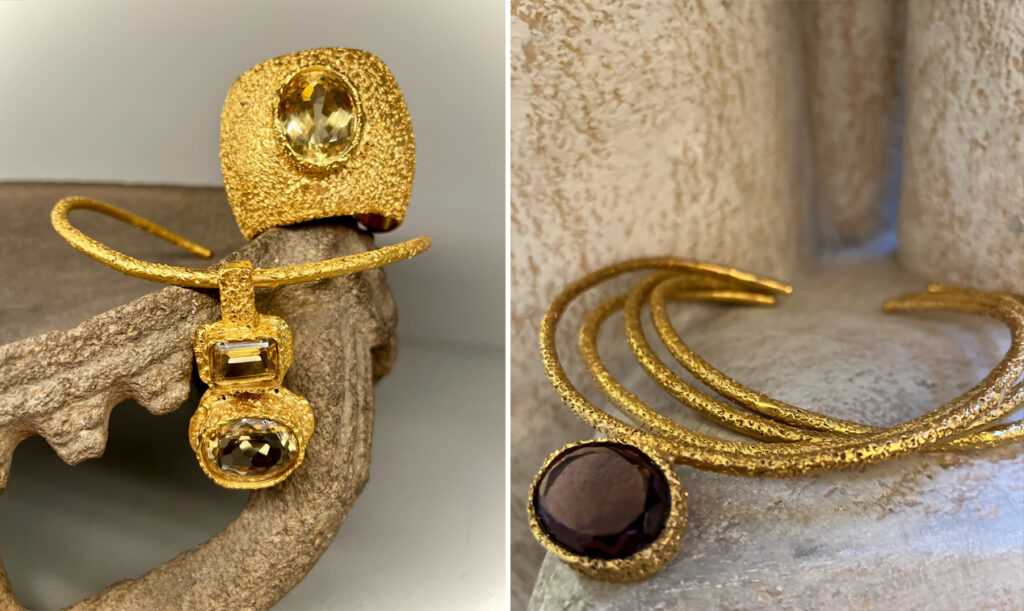 The semi-precious stones range from citrine to amethyst, aquamarine and tourmaline. Some other pieces such as a few bracelets and rings, echo her chunkier gold-plated necklaces and cuffs, while displaying utter simplicity, meant to be worn separately or stacked with other key elements of the collection, rich of thirteen unique pieces.
The jewels were showcased during the 2023 Paris Haute Couture week, in the prestigious Gallery Vazieux rue du Louvre.