By Nicolas Ziza
There are some materials that play with time and the complexity of a design. Carbon fiber is without a doubt one of the most inspiring materials for a designer. It offers designers the possibility of uninhibited creativity while offering unique properties that subtly blend fluidity and strength with a touch of softness comparable to natural wood. As aesthetic as it is functional, carbon fiber responds to current environmental issues through its unique properties. It combines longevity and easy recycling with a legendary lightness that allows for a significant reduction in the carbon footprint of its transportation. More than a hundred years old, carbon fiber has revolutionized our daily lives and even our interiors, lightening our furnishings while adding a touch of elegance and durability. Combined with carbon fiber, a recycled and recyclable foam developed by Diab, the Divinycell F50 has contributed to the manufacture of a lightweight panel with a raw aesthetic.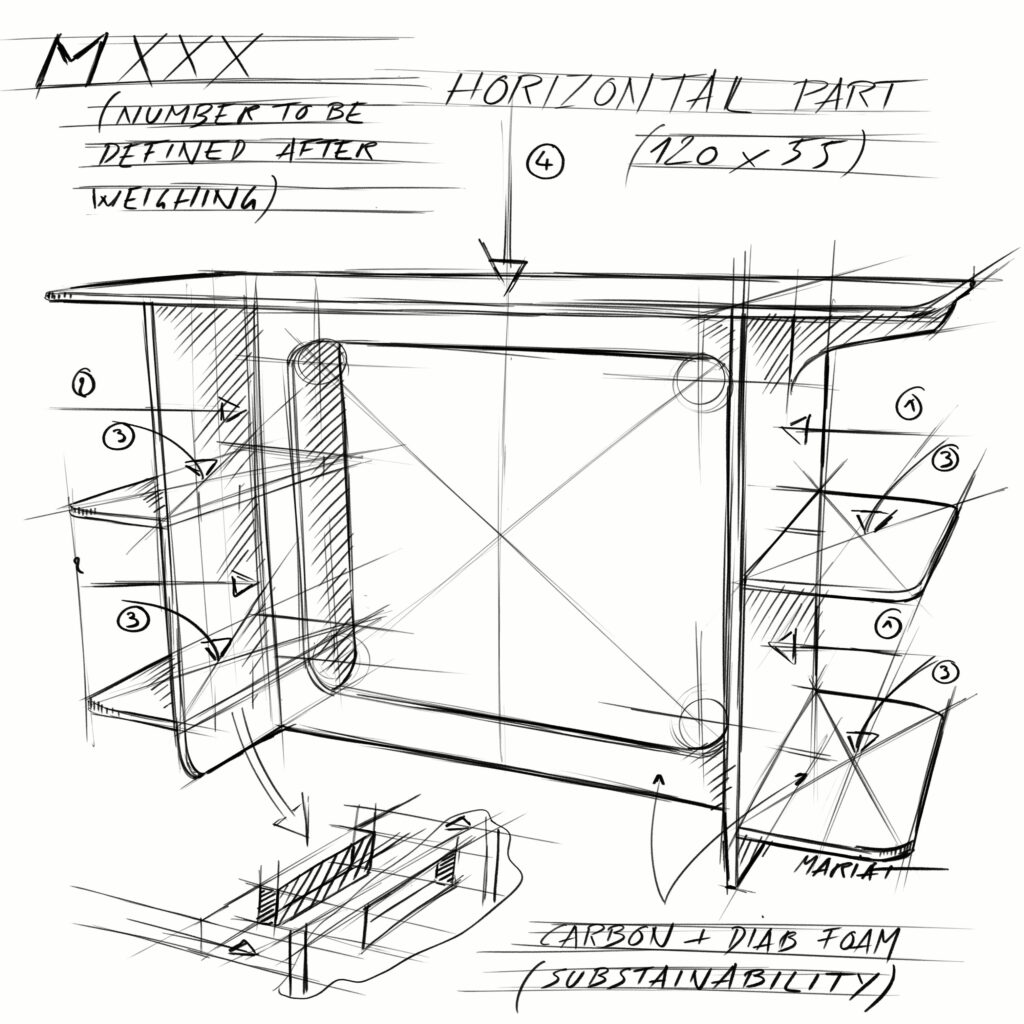 Design by Sylvain Mariat
Specialized in composite materials and rigid foams for more than 70 years, Diab has developed, improved and refined materials that meet performance requirements but also new environmental challenges. With this experience and the applications already implemented by Diab in the world, particularly in the aeronautical, marine and ecological energy industries, Diab, a Swedish company, turned to Sylvain Mariat, an international designer with a reputation in the field of aeronautical design, in order to give a new dimension to this material. Diab and Sylvain Mariat collaborated on a stylistic exercise to enhance the value of carbon material through the object.
To do this, Sylvain Mariat was inspired by the Mi-Century desk in beech designed by Gerrit Rietveld for Cassina in 1934. An iconic piece of furniture whose timeless design fits perfectly with the composite material. If Diab and Sylvain Mariat knew how to take advantage of these materials to realize a surprising furniture, the name of this piece of furniture which will be realized only in three exclusive copies, is the fruit of an innovative and shifted reflexion in order to bring to this realization a dimension as much artistic as technical. In fine the work will bear the M, initial of Mariat and the number 6470 corresponding to the real weight (in grams) of the work. Created as a tribute to his contemporary, the French designer has indeed found it interesting to use carbon/foam panels, designing the desk with an assembly similar to the one we could find with cardboard. An authenticity and simplicity both aesthetic and technical allowing the M6470 to leave the imprint of a know-how close to the craft through time.
For Sylvain Mariat, "Carbon fiber is without a doubt one of the most harmonious contemporary materials. Its rendering, its technicality and its ability to interpret any shape makes it an incredible support for a designer. The collaboration with Diab was not only a real human adventure, but also the opening of a new chapter in the world of contemporary design".
Recyclable and recycled
For the design of the different elements of this tribute furniture, Diab solicited the unique expertise of New Design'Air based in Montauban for the realization of the carbon composite panels. "Collaborating with Sylvain was a real pleasure and a moment of sharing our skills and experience. I would also like to thank New Design'Air for their support", adds Aurélien Lafforgue Market Segment Manager Aerospace for Diab before adding: "New Design'Air is specialized in the manufacturing of commercial fittings but also in the finishing of VIP fittings. The company was a partner of choice. All of these ingredients helped bring the M6470 to life".
Beyond these associations of competences, Diab and Sylvain Mariat were especially attached to bring a purified and simplified design within the reach of a possible industrial development. Because, in addition to an innovative design and a contemporary furniture market always fond of novelties, the concept brings new solutions of productions perfectly in phase with the current and future ecological stakes. Contemporary in design, the M6470 is also contemporary in its manufacturing process and in the materials used.
To design this desk Diab used carbon fiber and Divinycell F50. A foam containing 30% of recycled materials and… recyclable. "The desk is fully recyclable," says Aurélien Lafforgue. Before adding: "A sector is being set up to recycle these materials and develop their use in other applications. This is a project we are developing with a view to offering a 100% recyclable cabin. The concept of sustainability is extremely important to us because it is part of our company's DNA and the environment is at the heart of all our strategic decisions. In fact, and upstream of the material recycling process, the company says that the plants dedicated to the manufacture of Divinycell foams, draw their renewable energy from biomass.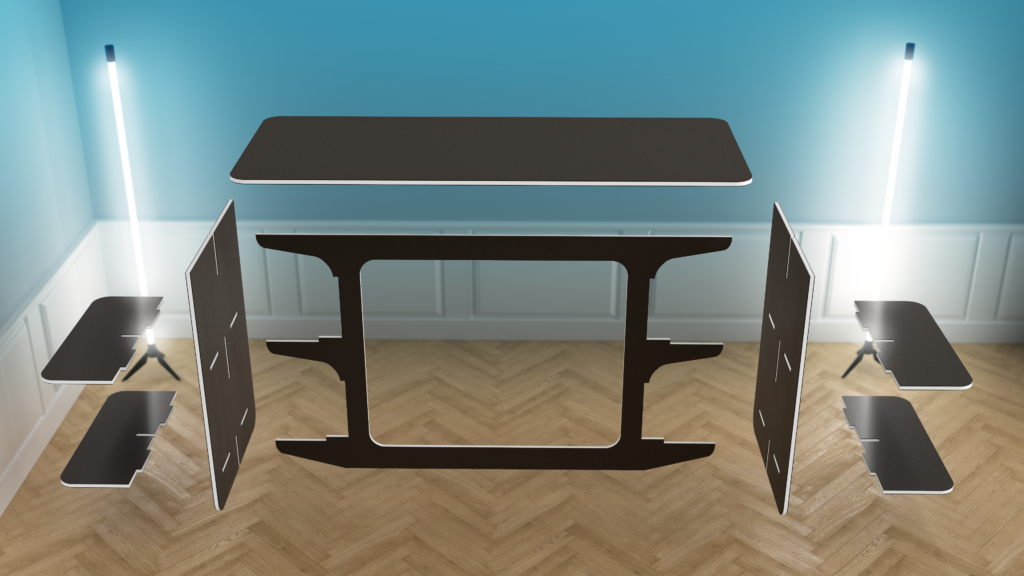 The use of fossil energy is thus proscribed within the entity, which allows it to offer 100% eco-responsible products. "Production waste is reprocessed and accounted for in order to have a zero waste strategy. We were one of the first companies working in the composite environment to subscribe to the Science Based environmental association, which aims to define environmental strategies for companies," says the manager.
Diab and Sylvain Mariat indicate that the M6470 is a study project and that it should never see the light of day with the general public. However, the two protagonists do not close the door to future projects of greater magnitude. If the M6470, signs an evolution in the world of the design, it is also the marker of a revolution in the industrial world by its conception. From there to say that the M6470 becomes a strong symbol, there is only one step.