The Canadian business jet maker marked one of its strongest three-month periods in years in the second quarter 2021, with President and CEO Eric Martel calling the period "exceptional on all fronts". Europe-based Christophe Degoumois tells us why.
By Sylvie Peron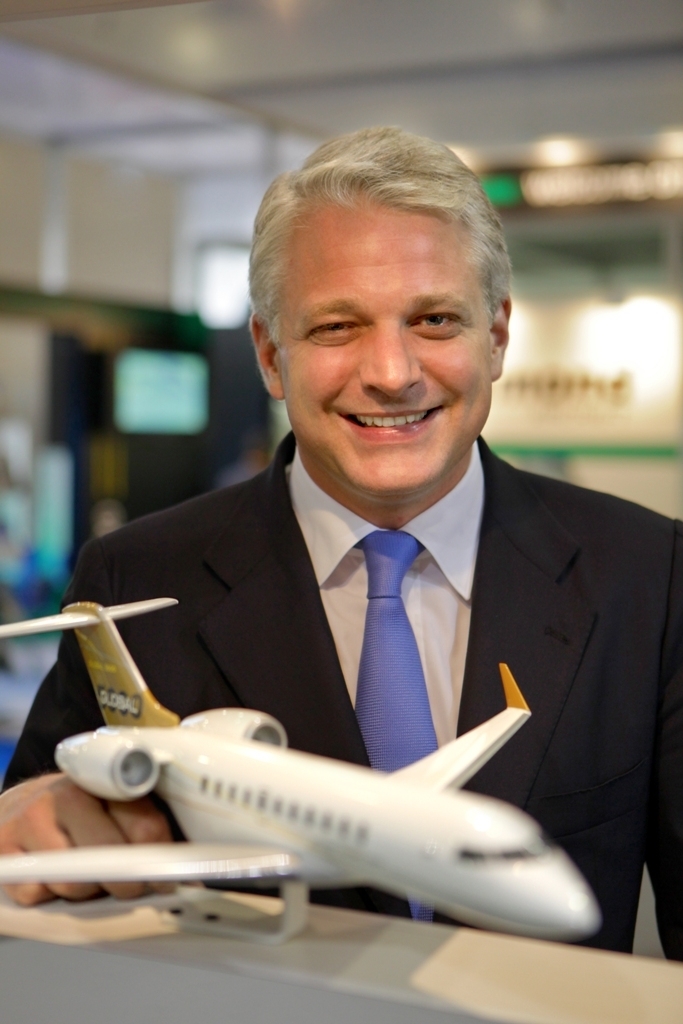 What does your position as VP International Business Aircraft Sales, Bombardier encompass?
My role as VP International Business Aircraft Sales is to establish Bombardier as the clear leader in different regions and market around the world, conveying information about what makes our business unique and the many qualities that set us apart.
Different markets require different approaches, but throughout the many regions I oversee, people appreciate Bombardier's customer-centric philosophy. We take the time to nurture and develop relationships, and we listen carefully to our customers' needs in order to develop a bespoke solution. It's a pleasure to nurture these relationships with our customers, who are growing increasingly knowledgeable about business jets – we often get highly technical questions from the owners themselves!
The pandemic has underscored the importance of business travel and face-to-face meetings. Our business jets have allowed customers to keep travelling even as airlines decreased their coverage. It's gratifying to see the difference our aircraft can make in people's lives.
Rumors about Bombardier have been flowing over the past year. What can you tell us about the current mood at the Montreal-headquartered manufacturer?
Today, the mood at Bombardier is extremely positive – and for good reason. Bombardier has since concentrated solely on business aviation, enabling us to stay purely focused on producing, delivering and servicing the world's best business jets. We are delighted at how the market reacted when we introduced the Global 5500 and Global 6500 aircraft, and the ramp-up in production of the industry flagship Global 7500 aircraft is going extremely well. In the super midsize and large segment, the Challenger 350 and Challenger 650 continue to perform in their respective segments as well.
Over the past few months, we have enhanced all aspects of our business, from sales to aftermarket service initiatives, including offering customers new products and services to amplify their experience such as the launch of a Certified Pre-owned Aircraft offering and the continued development of our comprehensive Smart Link Plus connected aircraft program. We also continue to focus diligently on our top priorities of maturing the Global 7500aircraft, deleveraging our balance sheet, optimizing our capital structure and executing our aftermarket growth strategy.
We are growing our worldwide aftermarket service footprint by some 50% worldwide with the acquisition of the remaining shares of our service facility in Berlin and expansion in London Biggin Hill Airport, Miami, Singapore and Melbourne with future expansions on the horizon.
The new or expanded facilities will provide customers with an enhanced suite of aftermarket capabilities, including new paint, line maintenance, heavy maintenance, interior refurbishment, engine repair, unscheduled/Aircraft on Ground (AOG) support and more.
How did the Covid-19 pandemic affect your business?
Bombardier acted quickly and decisively at the onset of the pandemic, taking a series of measures to ensure the safety of our employees and our customers. We're proud to say that despite the disruptions and challenges brought on by Covid-19, Bombardier continued to deliver aircraft throughout the pandemic, and to service our customer aircraft around the world. We are pleased to see the business jet industry recovering steadily, and our passengers are reassured in the enhanced safety that our business jets can provide verses commercial travel.
From a demand perspective, the pandemic also brought a growth opportunity for our industry, with more people turning to charter operators for the first time, creating a greater demand for charter flights, in turn, for business jets as charter operators seek to grow and update their fleets. Bombardier recently announced a 10-aircraft order highlighting this greater demand for business jet travel.
What are your perspectives on the market?
It would be premature to comment in detail at this point, but as stated earlier, the mood at the company is very positive. As you can see by our first- and second-quarter results, our financial performance is strong, and we are pleased to see a growing interest in business aviation moving forward.
As international boarders have been gradually reopening, the level of activity for business aircraft has been picking up with the month of July breaking a record in Europe and the United States in terms of movements. In fact, as of the end of July 2021, flight activity is 15% above 2019 levels and 50% above 2020 levels in sectors flown worldwide by business aircraft.
We see the same momentum in terms of the demand for business aircraft acquisition, which was reflected in our results for second quarter. Aircraft deliveries, revenues, profitability and cash usage are all expected to outperform previously communicated targets. In 2021, Bombardier is expected to deliver approximately 120 aircraft with revenues exceeding US$5.8 billion. In the second quarter of 2021, business jet revenues climbed to US$1.5 billion, up 50% year over year, fueled by increases in both aircraft deliveries and services.
As business aviation continues to rebound post pandemic, Bombardier's diverse portfolio of business jets, which includes the large-cabin, long-range Global family, is well-positioned to meet the needs of a growing customer base around the world.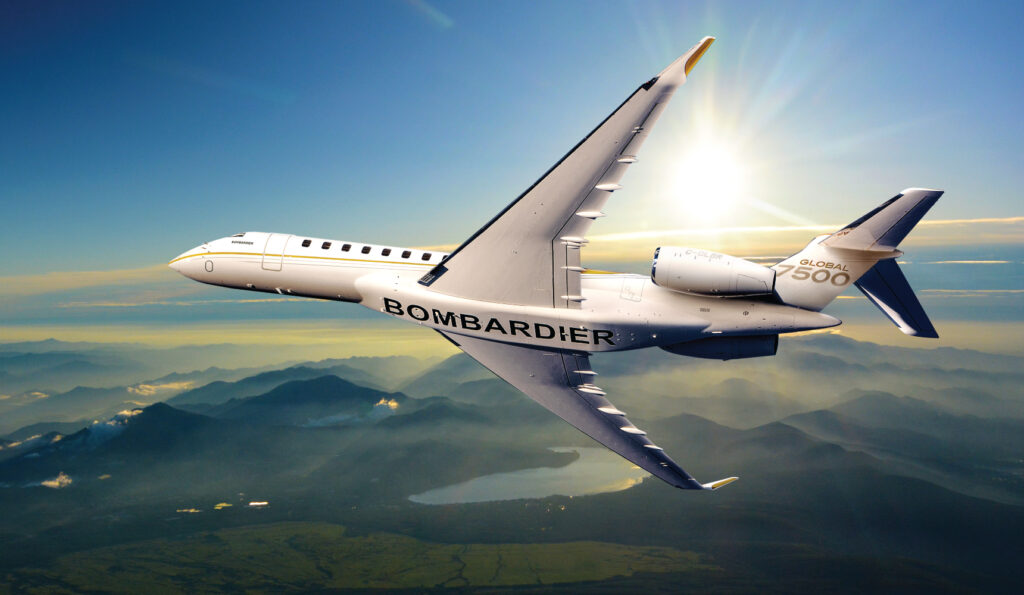 How are various markets in Europe and other parts of the world emerging from the crisis?
While the United States seems to be leading compared to other regions of the world in terms of business jet market recovery, international is on a positive path toward recovery. Customers and potential customers in all these regions are telling us that the pandemic has highlighted the importance of private aviation as a business tool in challenging times. Business aircraft help keep their business running and get them where they need to go even when the world is in a state of upheaval.
Bombardier has an impressive line of aircraft, from the Challengers to the Globals. Which aircraft do you consider a market leader and why?
Our aircraft are leaders in their respective segments, offering Bombardier's signature smooth ride for the best flight experience, and each is designed to meet the various travel needs of our customers.
Let's start with the Global 7500 aircraft, which is the flagship of the entire business jet industry. This outstanding aircraft has the longest range among business jets, meaning it can connect more city-pairs non-stop. And the flight experience is without compare, with four separate living areas, Bombardier's patented Nuage seat collection, a fully equipped kitchen for the ultimate dining experience, the Soleil lighting system designed to help combat jet lag, and a master suite with a full bed and shower option.
Also, in the long-range, large-cabin category, the Global 5500 and Global 6500 aircraft have the longest range; the largest cabins and the smoothest ride in their categories. They offer the world-famous Global performance and cabin experience and have inherited some of the coveted innovations aboard the Global 7500aircraft, including the Nuage seating collection.
It's worth noting that all Bombardier Global aircraft are equipped with a sophisticated air filtration system known as Pũr Air, with features an advanced HEPA filter that captures up to 99.99% of allergens, bacteria and viruses.
In our Challenger portfolio, the super midsize Challenger 350 aircraft is the bestseller in its category for the last seven years. It is a true force in the business jet industry, with the performance, reliability, smooth ride and overall cabin experience that make it the go-to aircraft for fleet operators and corporations. This aircraft is an excellent option for companies or individuals who are considering business jet ownership in the wake of the pandemic.
The Challenger 650 aircraft is an excellent choice for customers who are seeking a slightly larger cabin and more range. This aircraft's proven reliability and overall performance make it an excellent choice.
How does the market see the cease of Learjet production?
The market understands why we made this difficult, but strategic, decision. In the long term, Learjet customers will appreciate our efforts to launch in-service offerings for them, with our focus now fully on helping them operate their aircraft efficiently. Bombardier remains extremely proud of Learjet's enduring legacy and will continue to support the Learjet fleet.
How do you see the future at Bombardier and what can you tell us about the Bombardier spirit?
We see the future as very promising. Bombardier is well known for developing business jets without compromise, stunning aircraft that deliver speed without having to sacrifice short-field performance, sophistication, or cabin design and comfort. We are very proud as Bombardier continues to elevate the business jet experience.
The Bombardier spirit is in the direct heritage of entrepreneurship, which has made Bombardier starting from recreational products to the rail sector and aerospace business on which we are now fully focused. And from a sales perspective, we have gathered the very best talents from the industry to be as close as possible to the location where we serve clients. As part of our international strategy to enforce our presence, I am truly pleased with my team in Europe run by Regional VP Sales in Europe Emmanuel Borland, who is truly outstanding and we most recently increased his territory to Middle East and Africa. And to name in particular for Europe, I am proud to include in the sales team Olivier Zuber based in France, Marc Ghaly in the UK, and our most recent win to Bombardier, well known Ettore Rodaro in Switzerland. Regional VP Valeria Kolyuchaya is running Eastern Europe, Russia and CIS with her team, Nilesh Pattanayak is handling APAC with his team and Yubin Yu is capably handling Greater China, Hong Kong and Taiwan. And with Hani Haddadin and Wassim Saheb in Dubai, we are well positioned for the future. It's a highly capable team that is perfectly positioned to best serve our markets around the world.
Finally, I would like to highlight Bombardier's ongoing commitment to sustainability. This aspect is important to us as a company, to our employees, to our customers, and to the communities where we build aircraft. For example, Bombardier is the only business jet manufacturer to have produced an Environmental Product Declaration, for the flagship Global 7500 aircraft. An Environmental Product Declaration is an open book on the environmental footprint of this aircraft throughout its life cycle, and Bombardier has committed to providing them for all new aircraft going forward. Bombardier is also a long-standing proponent for the widespread adoption of Sustainable Aviation Fuel, as the best way for the industry to immediately reduce emissions. Although business aviation is responsible for only a fraction of emissions produced by the overall aviation industry, Bombardier is working relentlessly to reduce our environmental footprint.