Toulouse-based start-up ST Luxury introduced its connected cabin bag at EBACE. The case line is inspired by an aeroplane's wing, with a shape that is softened by an elegant curve at the top corners. Its body with its rounded shoulders combines strength and refinement in a decisive streamlined style. The silhouette is also reminiscent of the look of aeroplane galleys, with their modular sections containing on-board equipment, suitcases and airborne kitchen units.
Many visual details call to mind the world of aviation: visible rivets inspired by those on the fuselages, a handle with four dents in the style of a four-engine "throttle", with a 90-degree rotation, like those in the cockpits.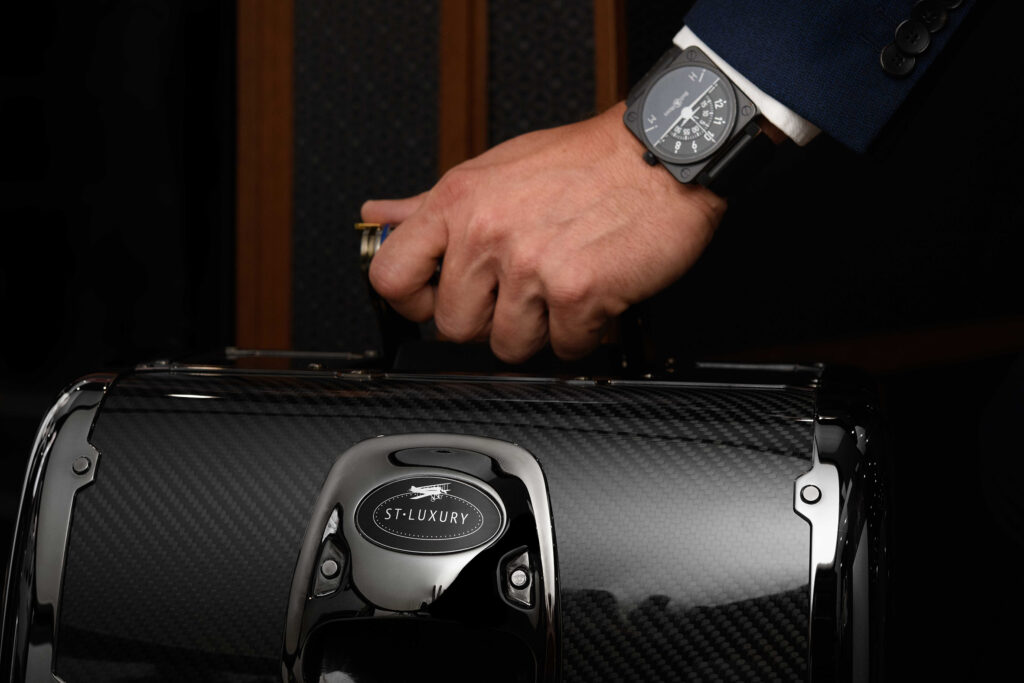 There is a nod to the Aéropostale adventure in ST Luxury's Voltige monogram, which openly takes a vintage look on board with a biplane motif twisting around the STL logo. Formed around a carbon fibre structure the ST 001 case is protected by a solid jute canvas reminiscent of the postal bags that crossed the seas in their day.
Carbon fibre has the advantage of being three times stronger and more rigid than aluminium while being 40% lighter – all essential assets for luggage.
The ST 001 case infuses avionics intelligence in all facets of its design, with an "autopilot" approach to security at all times. It is opened with a biometric sensor guaranteeing personal access only to its contents. The "throttle" handle is equipped with electronic micro motors and has a telescopic handle which can be extended and whose length can be set and recorded according to its owner's height. 
Just as the landing gear moves in and out of its hatch during take-off and landing, the four wheels of the case are motorised and retract on demand to perfectly stabilise the luggage.