By Caroline Phaneuf – © EBACE
he European Business Aviation Convention & Exhibition (EBACE) 2023, held in Geneva Switzerland from May 23-25, 2023, was a remarkable showcase of new aircraft, cutting-edge technologies, and innovative solutions for sustainable flight, emphasizing the industry's excitement about and commitment to pushing the boundaries of aviation.
Textron Aviation unveiled its new Cessna Citation Ascend, an updated 12-passenger midsize Excel with an entirely new cockpit featuring Garmin's G5000 avionics suite, improved performance, a more luxurious cabin, and a new version of Pratt & Whitney's PW545 turbofan, the PW545D, powering it.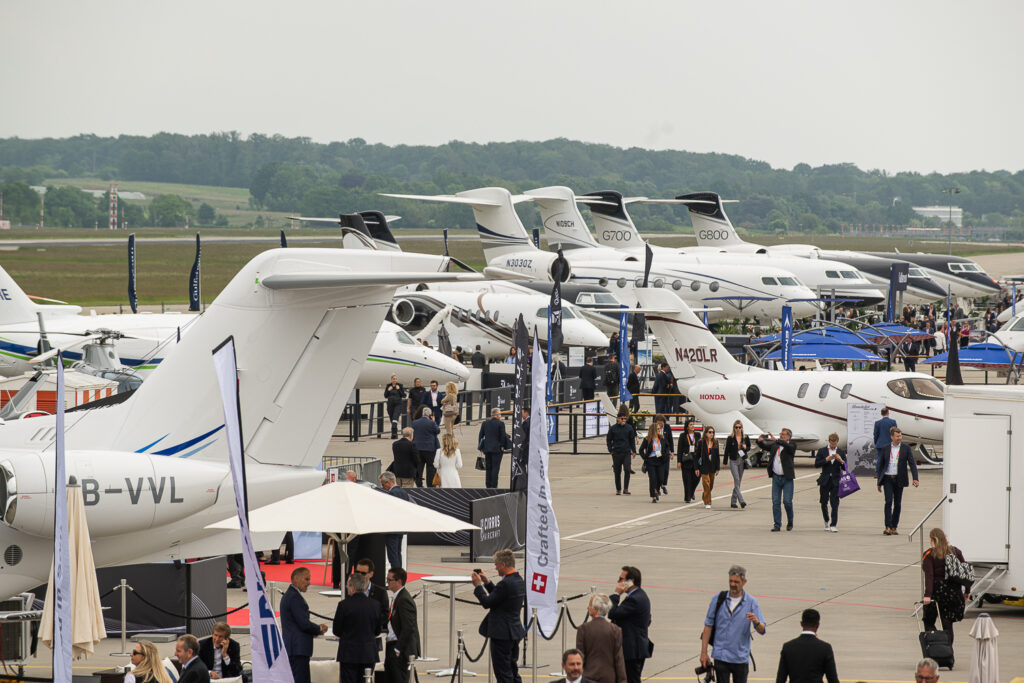 The big excitement on the static was the first public appearance of the ACJ TwoTwenty, offering breathtaking amenities and a fuel-saving design, including advanced materials for lower weight, helping it achieve a range of 5,600 nm. Honda Aircraft was looking past its problems with Jet It and debuted its HondaJet Elite II 7-passenger very light jet, while Daher championed the EBACE debut of its flagship TBM 960, a 6-seat single-engine turboprop replacing the TBM 940. Bombardier showed off its Global 8000 (previously Global 7500) and Challenger 3500, which made its European debut showcasing its eco-design vision with an app that optimizes flight plans for a reduced environmental footprint. The new ultralong-range Gulfstream G800 also made its continental debut, arriving from the U.S. powered by sustainable aviation fuel (SAF). Dassault Aviation showed off the first mock-up of its Falcon 10X, claiming a considerably roomier cabin than its ultra-long-range rivals. Environmental sustainability was the overwhelming focus of the week, and the consensus is that more must be done to combat a perception that business aviation is the playground of the ultra-rich.
«This is an industry that has cut its carbon emissions by 40% over the past 40 years, is continually reducing emissions today, and is collectively focussed on achieving net-zero emissions by 2050,» pointed out NBAA chief executive Ed Bolen and EBAA Chairman Juergen Wiese.
To prove the point, and in an exceptional show of solidarity during a lunchtime panel, the six chief executives of business aviation's leading OEMs pledged to continue cooperation to fulfill that 2050 zero-carbon objective. Gulfstream President Mark Burns identified SAF as a foremost way to achieve short-term environmental goals, while Joe Benson, Boeing Business Jets' new President, stressed the importance of working with the entire supply chain. Embraer Executive Jets chief executive Michael Amalfitano underlined the importance of new technologies to aid in cutting the industry's carbon footprint.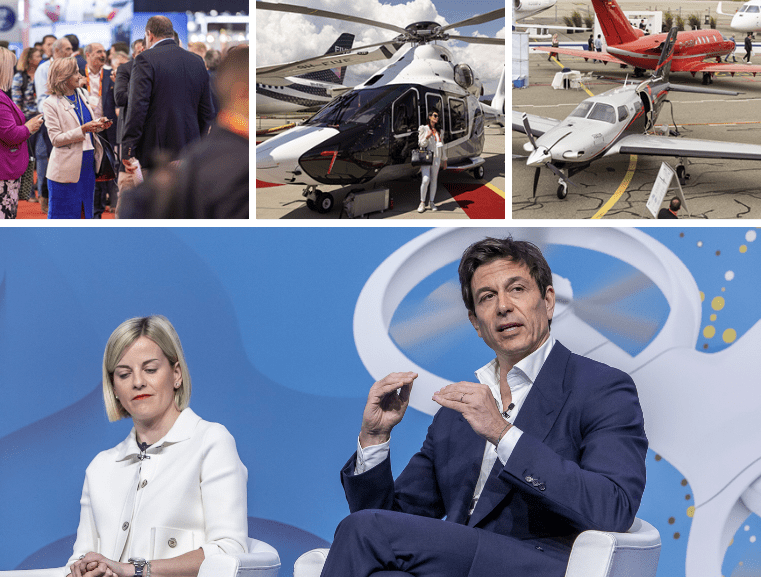 EBACE 2023 also showcased the reinvention of the technology of flight. German electric vertical take-off and landing (eVTOL) start-up Lilium gave a first glimpse of the Pioneer Edition interior of its jet: a spacious four-seater. The founder of Swiss-based Jekta, George Alafinov, spoke on several panels about his plans to bring a 19-seat electric amphibian seaplane to market. VoltAero, a French hybrid-electric aircraft developer, announced the first flight of its Cassio 330 prototype later in the year and pilot, explorer and entrepreneur Raphaël Domjan shared details of his SolarStratos program's quest to become the first crewed aircraft to fly to the edge of space on solar power.
The opening keynote session included one of the biggest draws at EBACE 2023: Formula One legends Susie and Toto Wolff.
The power duo spoke about the similarities between F1 racing and business aviation, including the need to make both sustainable and diverse. Susie Wolff, a former race car driver, spoke about how Formula One Academy, of which she is a managing partner, is focusing on nurturing female drivers.
«We are giving 15 young female drivers the platform to nurture and accelerate their progress, so within eight to 10 years, we hope to see a female driver in the Formula One division,» she said, adding diversity of people, backgrounds and ideas is key to success in any field.
EBACE2023, through its exhibits, panels, and discussions, accelerated the pace of innovation in business aviation, whether that be in the form of technology, sustainability, or workforce diversity.