By Sylvie Peron
Saint-Patrick's Day is a good time to see the reopening of the famed clandestine cocktail bar at Spain's El Palace.
Born as the Ritz of Barcelona in 1919 as the first five-star hotel in the Catalonia capital, with its 120 rooms and suites and rooftop garden with its pool, El Palace is one of the most historic hotels in the world.
Noble woods, sumptuous velvets, and amber tones envelop this vintage English-style cocktail bar with original distillates of the 1920s. Following a two-year closure, this iconic space reopens its doors from 17th March, and will be open Thursday, Friday, and Saturday nights as vibrant live music venue and creative cultural melting pot for locals and visitors.
Bluesman Cocktail Bar takes its name from the painting that Ronnie Wood, the legendary Rolling Stones guitarist, painted himself and gifted to the hotel after one of his long stays at El Palace Barcelona. During his time in residence, Wood was known for performing impromptu jam sessions in Bluesman Cocktail Bar, and he wanted the painting to be hung in the space where he spent such memorable evenings.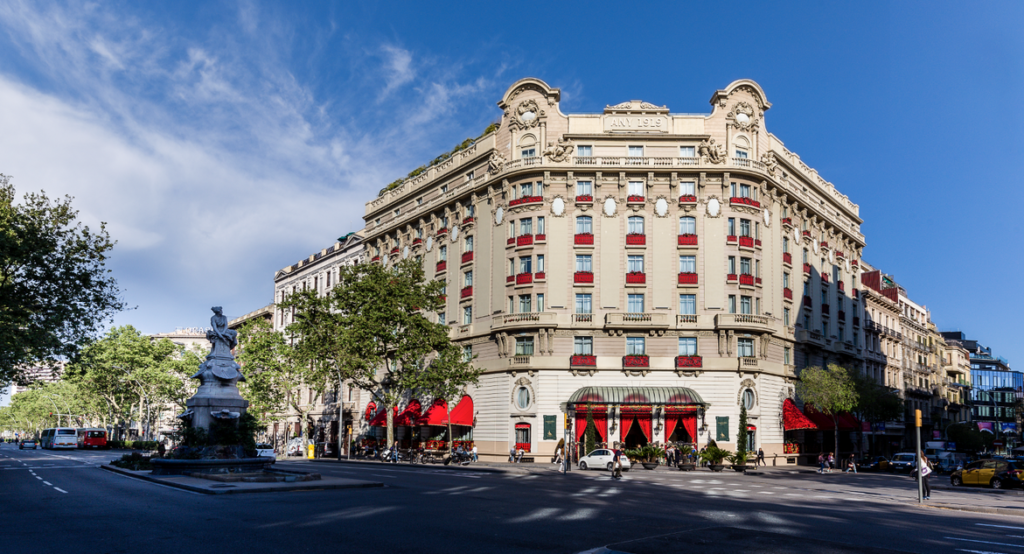 Crystal chandeliers dating back to the 1920s hang over a fine black and white marble bar which showcases a selection of unique spirits and vintage antiques still in use today. At the back of the bar, a mirror hides a spectacular disco ball that shines brightly during the performances that take place on Friday and Saturday nights. Bluesman Cocktail Bar's signature red fabric walls and comfortable velvet chairs create an intimate atmosphere, perfect to enjoy a nightcap and live musical performance. 
Jazz, blues, and soul are the protagonists of this creative space with musical bands and artists performing live on the stage located next to the bar.
With more than four hundred distillates and liqueurs, cocktails are a true art form at Bluesman Cocktail Bar where cocktails are masterpieces in themselves. Tapas such as decadent Normandy oysters, escudella croquettes with fresh black truffle, Balfego tuna belly slices with puffed bread and pistachio romesco sauce, and the foie gras mi-cuit with dried apricots and ratafia are available from 22:00 – 01:30 a.m. 
Hours: Thursday, Friday, and Saturday from 22:00 to 01:30 a.m.
Reservations: bluesman@hotelpalacebarcelona.com