Lufthansa Technik AG has handed over another new Airbus A350 government aircraft to the German Armed Forces. The modern long-haul jet was ceremonially christened "Theodor Heuss", after the first President of the Federal Republic of Germany. Further to being ferried from Lufthansa Technik's Hamburg base to Cologne-Wahn airport, the aircraft has been officially put into political-parliamentary flight service by the German Airforce.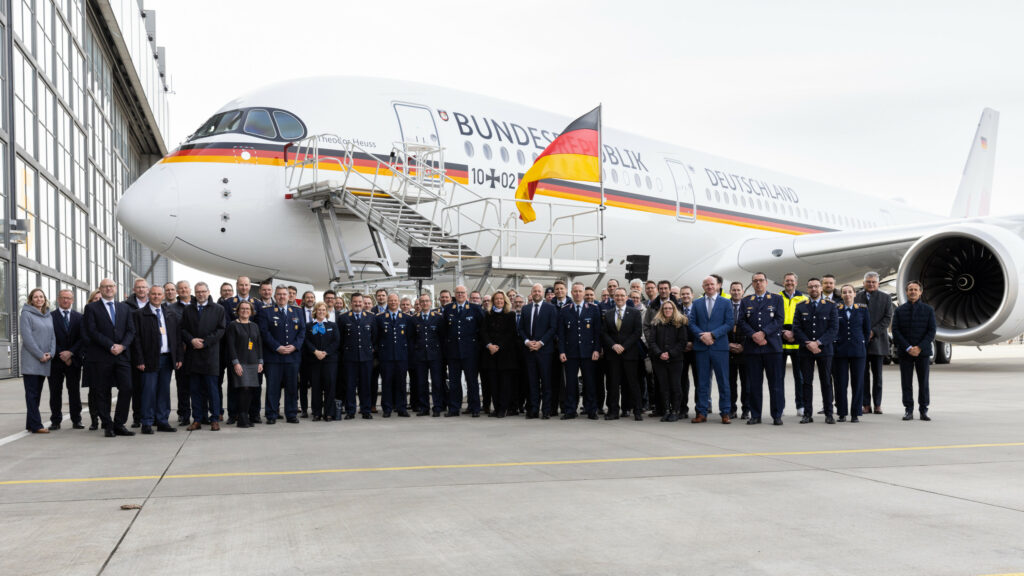 "Theodor Heuss" bears the tactical registration 10+02 and is the third aircraft of this type to be handed over by Lufthansa Technik to the German Armed Forces, following "Kurt Schumacher" (10+03) and "Konrad Adenauer" (10+01). This is the second A350 to have a full government cabin installed. Thus, 10+03, which for reasons of early availability had only received an interim cabin in 2020, has returned to Lufthansa Technik's Hamburg headquarters earlier this year, where it is also receiving the full government cabin in order to complete the German Airforce's A350 fleet in 2024.

The green aircraft (02) had been transferred to Lufthansa Technik in October 2021, where the company's Special Aircraft Services segment has installed the highly customized government interior meeting the highest standards of functionality, connectivity, comfort, and privacy for traveling dignitaries. An adjoining cabin area is dedicated to the accompanying delegations. It features comfortable seating with sufficient seat pitch, several private washrooms and a modern galley.