By Sylvie Péron
In the last days of February, Acropolis Aviation welcomed its brand-new Airbus ACJ320neo. The privately owned bizliner, is now available for charter.
The world's first ACJ320neo designed by Alberto Pinto Interior Design, headed by Linda Pinto, was re-delivered by AMAC Aerospace and touched down at Acropolis Farnborough Airport home on 27th February, the culmination of 13 months' cabin outfitting at the Basle, Switzerland based completion centre. Lead designer Yves Pickardt, who oversaw the elegant cabin interior, congratulated the AMAC team, who have "brought our design to life beautifully". The brief was "relatively simple," he told Ultimate Jet. "Do as well as NOAH, in a similar 'soft classic' vein: chic and elegant, using the same aesthetic codes." Luxurious without being ostentatious, the cabin had to be extremely comfortable.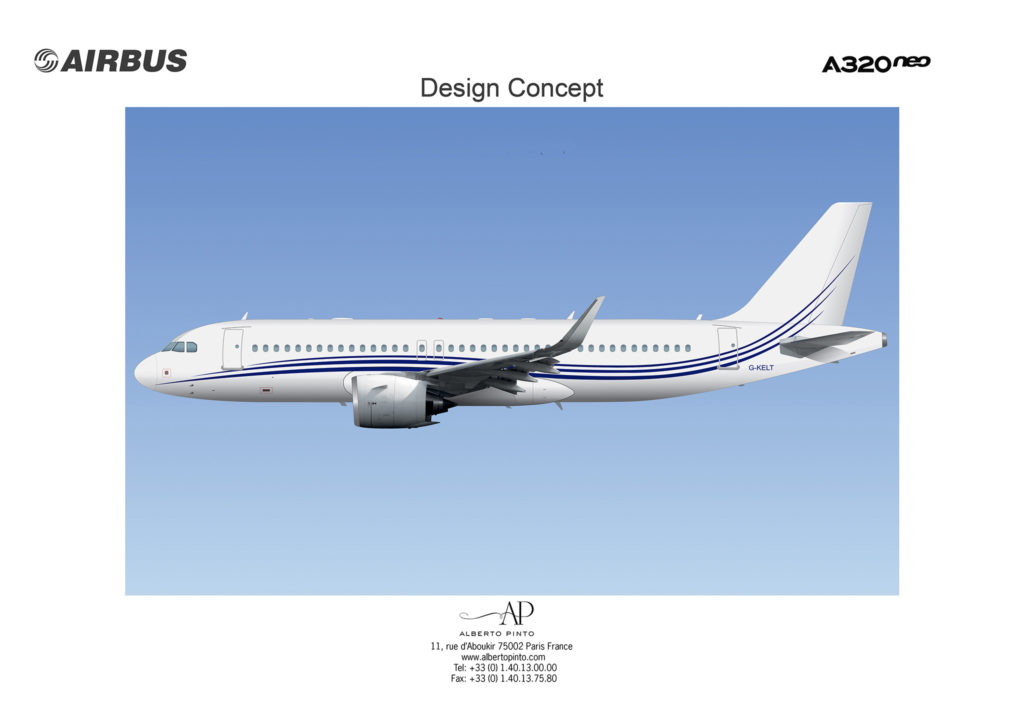 Ten years have past since the Airbus ACJ319 G-NOAH entered service in March 2010. New technology offers solutions that weren't available then. "It's always what is most difficult, to replicate but even better, without doing exactly the same," says Pickardt. "It had to be an evolution yet a direct descendant of the original aircraft." He claims the design team did not encounter the least difficulty and clearly benefitted from the owners' complete trust. "The entire process was flawless and ran smoothly. This special relationship with our client is based on mutual appreciation over many years."
A jewel on the VVIP charter market
"We are absolutely delighted with the high quality of workmanship that has gone into the creation of G-KELT since it arrived green in January 2019," said Acropolis Aviation CEO Jonathan Bousfield. " AMAC Aerospace has created something very special, which will set new standards of comfort and well-being within the VVIP charter market, fully utilising the cabin space."
Five completion centres worldwide were considered for the project, yet AMAC Aerospace was awarded the completion "as an evidence", says Pickardt. "Today, they certainly are the best when it comes to high-end interior completion. Their attention to detail and willingness to listen and execute the slightest request is simply unmatched," he says, adding: "Project manager Stephane Bibler deserves a special mention!" A mutual understanding between the Basle-based completion centre and Alberto Pinto Interior Design was established over the years with the successful completions of a BBJ 747-8 and an ACJ319. 

Acropolis Aviation, based at Farnborough Airport with a complementary sales office in Fort Lauderdale, USA, is managing the new ACJ320neo privately owned aircraft, making it available for charter when not in use by its owners. The company, which holds Wyvern Wingman safety accreditation, employs 30 personnel and has gained a reputation for excellent service in the high-end charter market. 
G-KELT takes long-haul flying to a new level. It brings stylish accommodation for 19 passengers, including a private master bedroom leading to an en-suite bathroom with a rectangular shower, the largest ever to be installed in an Airbus single-aisle aircraft. Cabin space is versatile to suit Acropolis' diverse clientele, from heads of state to private individuals flying for business or leisure. "The cabin interior's timelessness is meant to suit all tastes while retaining a strong European personality," explains Pickardt. There is an emphasis on wellness throughout, reflecting that Acropolis Aviation's ACJ320neo, the first in a new family for Airbus, is capable of flying over 12 hours. It features a full-sized kitchen galley for food preparation and an induction oven, enabling preparation of fresh quality food, without any fumes or odours. The crew benefits from a crew rest area with two bunk beds. A lot of attention has been paid to the smallest details. "For the first time on this type of aircraft, the seats are fitted with foot-rest structures, and there are a multitude of personal stow-away areas in the opening armrests," explains Pickardt. "In the bedroom, the large bed is positioned sideways for better access from each side," he adds.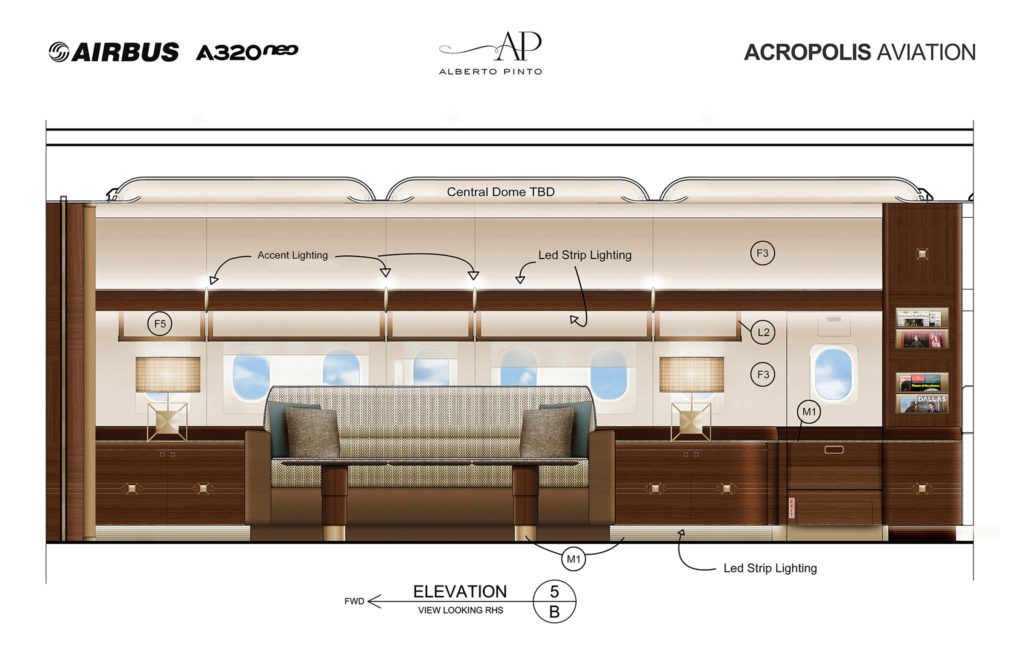 Materials were custom-designed by Leni's Textiles. Based in Canton, Massachusetts in the USA, the company has been in the fine fabric business since 1972, specialising in upholstery material. They also make luxury blanket throws, to complement their fabric styles. "It was a remarkable blend of vibrant colours in a bold pattern, soft and shiny chenille mixed with a cotton base for stability and durability. The colour combination, selected by Cabinet Alberto Pinto, is completely unique in our fabric line. Many aircraft interiors are often done with muted colour tones; it was wonderful to work on such a dynamic fabric," says President & CEO Kerry Hopkins. With an average cabin altitude of 6,400ft to enhance cabin well-being, G-KELT has been fitted with an aircraft cabin air humidifier to ensure clients have a comfortable on-board experience, enabling them to arrive refreshed after an overnight flight.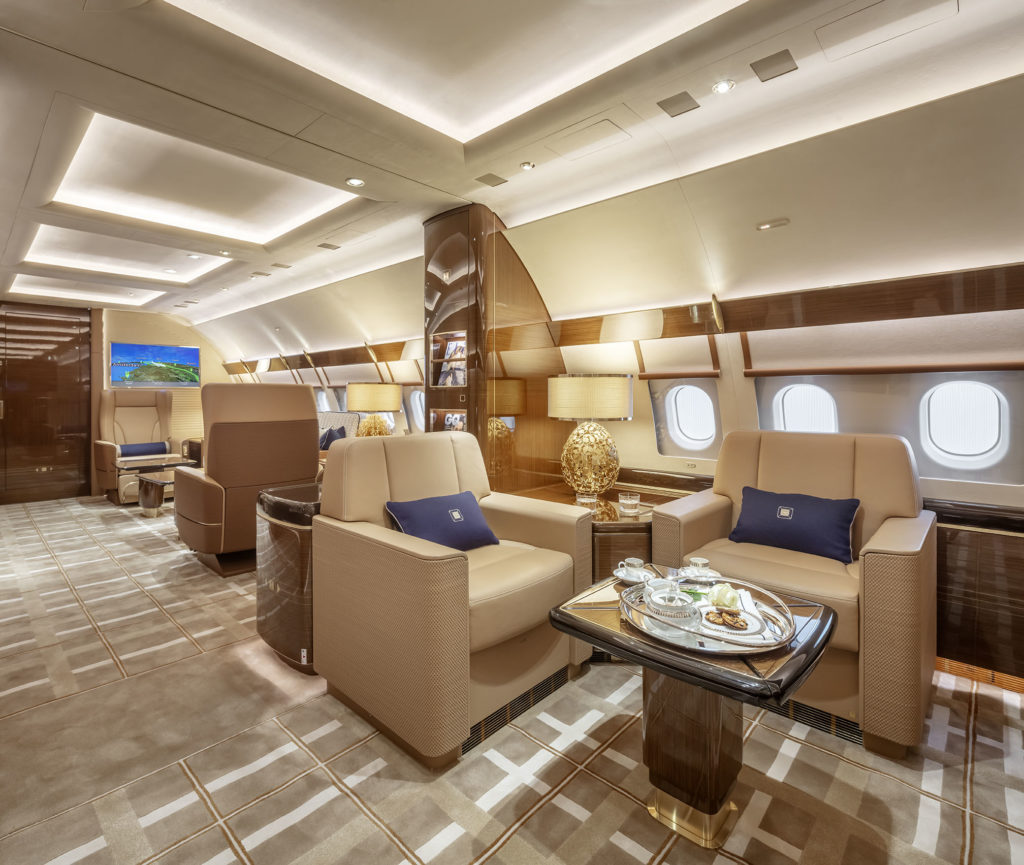 European chic
"It is with great pleasure that we have executed this completion project for Acropolis Aviation, one of the world's leading private aviation operators", commented Bernd Schramm, Group Chief Operating Officer of AMAC Aerospace. "This unique mission adds to the excellent reputation that AMAC has earned in the market, which we have continuously demonstrated over the last 20 VIP / 25+ VVIP and refurbishment/modification projects." Founded in 2007, today the company is the largest privately owned facility in the world. Their success attests to the commitment to excellence. With long-term industry engagement, deep industry roots, extensive experience and strong international network, the AMAC team collaborates to exceed the expectations of clients, airworthiness authorities and original equipment manufacturers. "In order to complete a beautiful aircraft a solid technological know-how is necessary as well as completely mastering the values of different cultures," concludes Yves Pickardt."The worst danger is to express poor taste. Ostentatious luxury full of cheesy details, lacking in sophistication, balance and refinement is counterproductive. In my opinion, Europe is home to clusters of talent. It is still the land where such challenges of excellence can be met!"