By Richard Koe – © Shutterstock – © WingX
In the 12 months from mid-2021 the global business aviation market saw a breathless rise in demand for flights, with activity, measured in terms of flight sectors, almost 30% higher than the comparable pre-pandemic period of 2018-2019. By the time 2022 was done, business jet and turboprop activity had increased 15% beyond any previous calendar year record. In April 2020, as the lockdown was imposed, there were barely 1,500 business jet sectors flown, in contrast to April 2022, when daily average operations exceeded 12,000 daily sectors. As the industry looks ahead into 2023, some anticipate that the industry will consolidate these gains, others are concerned that there may be more negative turbulence to come.
As lockdowns were lifted in early 2022, 12 months ago, supply chain distortions constrained the extent to which the industry could recover to meet the pent-up demand for travel. The Ukraine war compounded the dislocation, with shortage of resources, equipment parts and human resources complicating the entire supply chain of business aviation services. The result was that even with inflated operating costs feeding into higher prices, demand for business jet charter soared well above the available fleet´s capacity. The pre-owned market fell to record lows as new owners entered the market, and OEMs filled order books with several years of future deliveries. With supply chains stabilizing by late-2022, commodity and energy prices had started to stabilise and OEMs have got better positioned to ramp up production. A wave of industry consolidation, across FBOs, maintenance centers and charter fleets, have fed through into more available capacity and support services. The question at hand now is whether a replenished supply side will meet with still-burgeoning demand this year, or will quickly prove surplus to a weakening market. Because at the aggregate level, the market is clearly past its peak; as shown in chart 1, business jet activity measured by week-to-week flights stopped growing in the latter half of last year (the orange of 2022 converging with the red of 2021).
Business jet flights week-to-week in 2019-2023
The brunt of the slowdown is visible in a fast-slowing charter market. This is where the rebound had been strongest as the pandemic wore off. Record demand reflected a pent-up demand for mobility, «revenge-spending», and frustration over the eroded and unreliable airline schedules. As the leading charter fleets scrambled for additional lift, acquiring competitors wherever possible, a surge of first time charter customers lifted flights more than 40% above pre-pandemic levels. As shown in chart 2, late-2021 proved to be the high point. First due to capacity limits and then as charter demand wavered, the relative growth rate compared to pre-Covid had declined to only 11% by December 2022.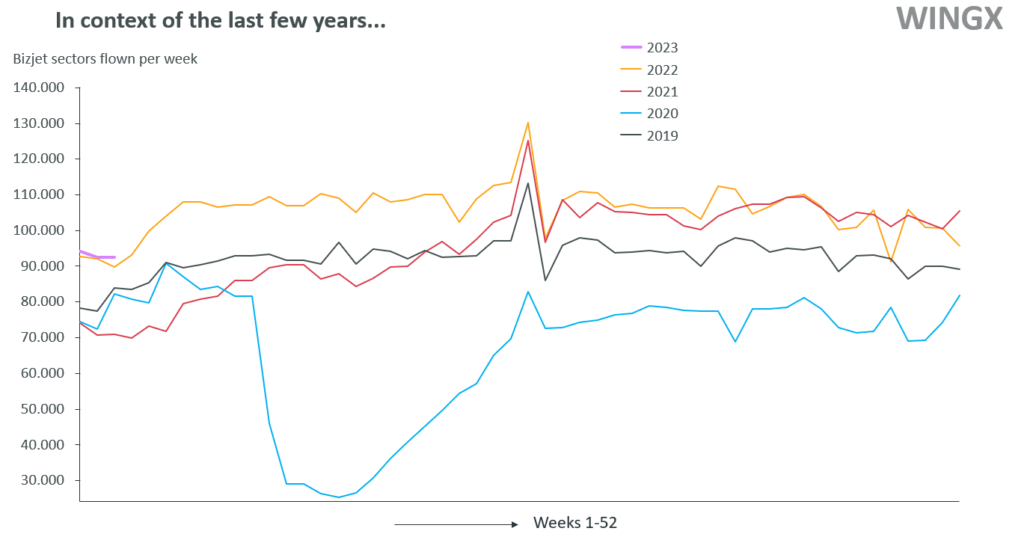 Business jet operators by type, growth versus 2019, from Oct-21 to Dec-22
The tapering growth in charter demand reflects a number of one-off and cyclical changes: less need for «bubble travel» as Covid fears dissipate; surplus lockdown-savings expended; growing uncertainty around the economy as stock markets stutter and inflation persists; some recovery in the airlines, reopening most less costly scheduled services. These factors are bound to hit the ad hoc charter customer hardest. The fractional ownership and hours-program models look more resilient, with Vista Global and NetJets still reporting record bookings. In the last year they benefited from customers migrating up from on-demand to guaranteed aircraft availability, and in the next year they may also benefit from would-be aircraft owners trading «down» to off balance sheet access to private aviation. That said, the extended waiting time for new jet deliveries, three years or more for the latest Gulfstream, Bombardier and Dassault ultra-long range cabins, speaks to a solid demand for aircraft ownership. Pre-owned inventories are starting to build from their low point, with transactions last year falling slightly on a record 2021, but prices are still high and choice limited. Private Flight departments are still flying record highs. The softer spot is the Corporate Flight Department, slowest to recover from the pandemic, and wary of the cross-hairs of the growing importance of ESG optics. Flight shaming, whether through direct action or policy proposal, may well see corporations substitute fleet replacement for more discrete air taxi services.
Business jet flights and metrics comparing different regions (Nov-22 YTD)
Europe is the region most obviously exposed to a slowdown in bizjet demand in 2023. In the last three months, flight activity has moved back towards 2019 levels, especially in the charter market. With economic activity likely to stand still this year, first-time business jet users may abandon the industry as they did when the recession came in 2009. In Central and Northern Europe, flights have fallen by as much as 20% year-on-year in each of the last 3 months. The environmental optics of flying private are at their most negative in this region, which also lacks the reliable high-end luxury resorts of the Mediterranean. Overall, the European region may see a reversion to 2019 levels of flight demand.
Business jet traffic in Europe in Jan 1st through Feb 8th 2023 (vs 22, 21, 20)
The variance in regional demand for business jet travel is also evident in preference for business jet type. The pandemic period saw a rapid recovery in light jets, suited to domestic and regional travel. The longer flight connections took time to recover but are now setting record levels; transatlantic business jet sectors in January 2023 were up 20% on January 2019. Business jet orders have been stimulated by a highly competitive pipeline of super midsize and large cabin aircraft, with leading OEMs competing across a dozen models. The future of business aviation may include entry-level EVTOL taxis, but in 2023 sustained growth in demand will be driven by an ultra-wealthy population better insulated from economic turbulence.