Over the past 25 years, Satcom Direct has grown to become a leading provider of fully integrated, end-to-end, global satellite communications solutions. These customized solutions are designed to meet the unique requirements of our customers, particularly in the business aviation industry. And to develop them, Satcom Direct deploys its own fleet of aircraft. Here is a look at a little-known aspect of the development of these innovative solutions with Chris Moore, President Satcom Direct. 
By Fred Vergnères
What aircraft does the SD fleet consist of?
The Satcom Direct fleet currently consists of a Gulfstream G550, and a Gulfstream G350.
How did SD evolve its fleet of aircraft for these tests?
Initially, we operated a Cessna CJ3 and used it to test our value-added services on the Inmarsat SwiftBroadband network and our routers. As our products, services, and technology developed, it was clear we would need to trial each item on a larger airframe as this reflected our customer behaviour. We transitioned our fleet to include a Gulfstream GIV and a Cessna Citation. These aircraft supported validation, testing and quality assurance of product and service development.
The Gulfstream GIV became our primary platform on which we regularly tested our constantly evolving software, including SD Pro, SD PreFlight and SD PostFlight, the FlightDeck Freedom datalink service, and mobile apps. This platform also helped with the formation of our cybersecurity services. 
In addition to providing a superb option for trialling services, the Gulfstream GIV was used for transporting our executives to customer meetings and provided an impressive cabin environment for customer demonstrations.
For the last three years, our focus has been on developing our Plane Simple™ Series, which positions us as an end-to-end connectivity, software, and data management business. The introduction of the antenna systems represented the last piece in the connectivity jigsaw puzzle. Our singular aim was to simplify connectivity acquisition and management by positioning SD as a single resource. This required developing the necessary hardware and software, so we optimized our aircraft to enable development.
The purchase of the Gulfstream G350 has also been an integral part of the process. In 2021 the Gulfstream G350 undertook a circumnavigation of the globe to prove the hardware's connectivity with the Intelsat FlexExec service. Flight testing confirmed seamless functionality across the complete SD eco-system of software, hardware, and infrastructure.  Full qualification of the Plane Simple Ku-band antenna connection with the Intelsat FlexExec network (both dedicated to business aviation connectivity) was confirmed in November 2021. During a trans-Atlantic flight, the terminal performed impeccably, that was an important step in the program development.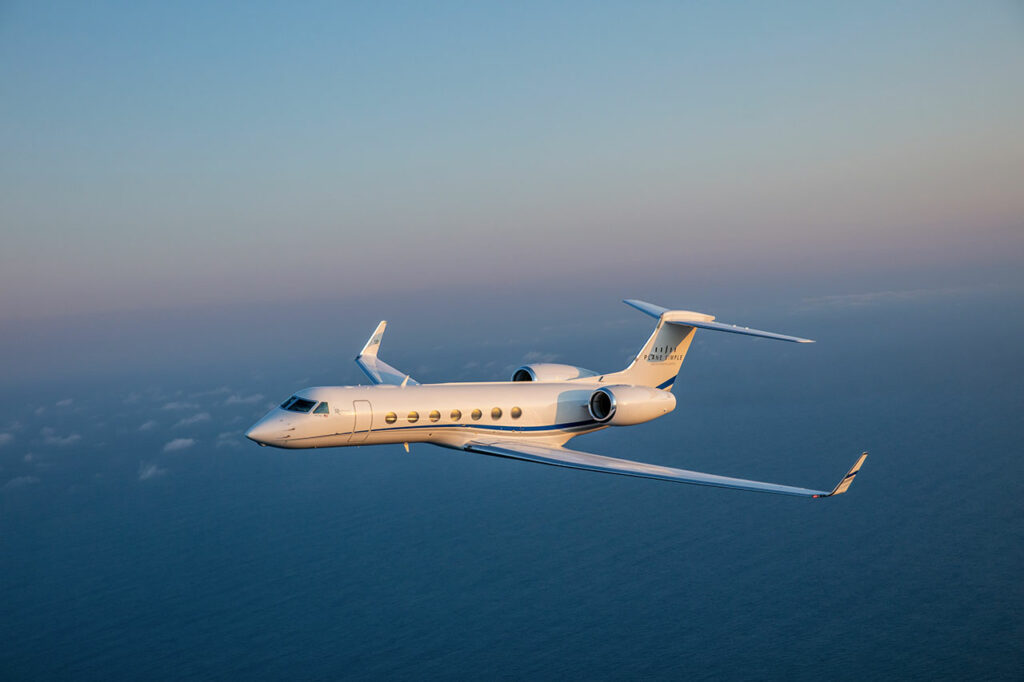 This internal testing reduces the time that customer in-service evaluation takes, and while customer feedback is essential, we aim to undertake most of the test activity ourselves. Our Plane Simple Ku-band terminal is currently undergoing beta-testing with customers on various platforms and commercial service introduction is anticipated by Q4 2022.  Without our internal testing, this may have taken much longer. 
A Dassault Falcon 2000LXS replaced the Gulfstream GIV. The alternative OEM type gave us doubled testing capacity by generating direct comparative feedback about system capabilities and identifying any pain points not yet discovered in the lab. 
By adding the second platform, we further verified the benefits of integrating the new advanced technology antenna with our SD ecosystem. The dual testing on very distinct aircraft platforms demonstrated that we were getting closer to providing seamless end-to-end connectivity for a more comprehensive selection of aircraft types than ever before.
It is important to note that when we were using the aircraft for testing, all systems/hardware being testing is black label/approved/certified.
Why the choice of a Gulfstream G550?
The Gulfstream G550 allows us to optimise the capabilities of an airframe we know well to showcase and demonstrate the capabilities of our Plane Simple antennas in a comfortable cabin that our customers are familiar with.
We want to ensure that during demo flights, clients are comfortable so they can focus on the system performance. They can stress the connectivity by using multiple devices, which helps convey the incredible capacity of the Plane Simple hardware. We needed a large cabin aircraft to ensure customers could test our system in comfort, in a situation that reflects their flying behaviour.
Flying the Plane Simple equipment on the Gulfstream G550 also demonstrates that equipping the aircraft requires minimally invasive installation and that the SD modem unit sits in the unpressurized section of the fuselage, so, freeing up cabin space. Showing the customers all the benefits of the system, and allowing them to interact with it, brings its capabilities to life.
We also have a strong relationship with Gulfstream. We announced earlier this year that the SD.
FlightDeck Freedom® (FDF) flight deck communications platform had been selected as the default datalink system for production Gulfstream 500, 600, and 650 aircraft. Since 2017, the Gulfstream Connected Services program has provided operators with boosted connectivity continuity and reliability, and SD exclusively provides the cabin and cockpit service plans. This familiarity supports the efficient development and installation of our equipment into the airframe.
In April, the Federal Aviation Association (FAA) approved Supplemental Type Certificates (STCs) for the Satcom Direct Plane Simple™ Ku-band tail-mounted Antenna System. Following a multi-model (AML) STC approval, Gulfstream G550, G450, GV, and GIV types are now being equipped with the advanced technology terminal.
The G550 is a natural fleet progression for trialling our ongoing hardware development.  Jim Jensen, our founder and owner, values the quality and performance of the aircraft, and consequently, we wanted to optimise the capabilities of an airframe we know well to continue testing while having the ability to demonstrate our connectivity reliability to existing and future customers.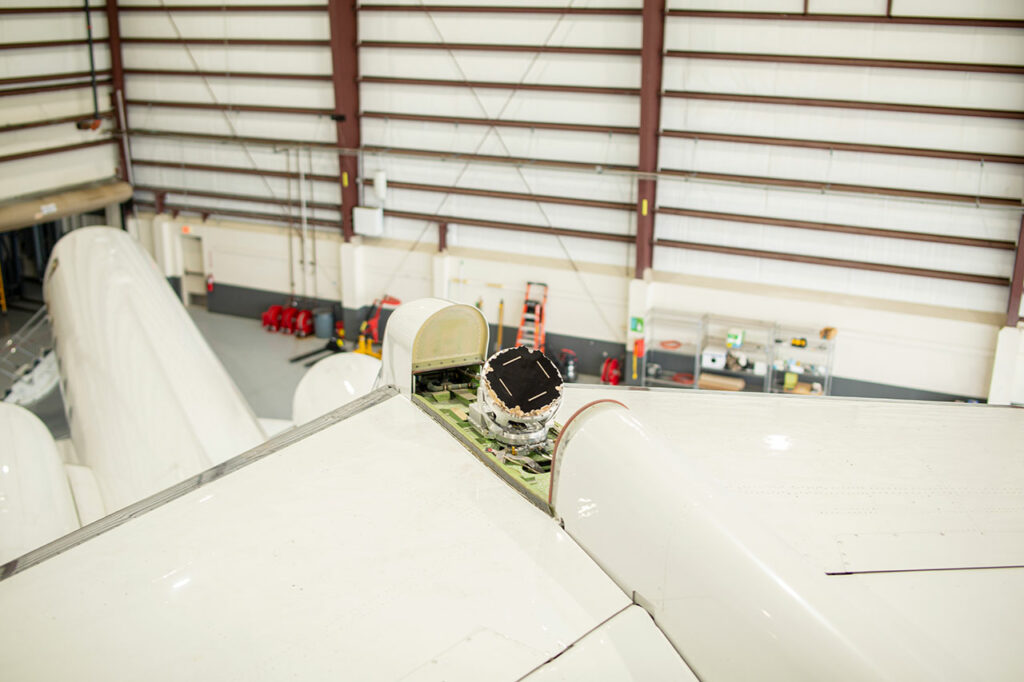 How are the flights organized, and how many hours are flown per year?
We have an active flight department run by a dedicated team conducting detailed planning before each test. Project management is the same whether for a single flight, trans-Atlantic leg or even a global tour. The planning will vary depending on the test requirement, of course, but we use our own flight operations system, SD Pro, to plan every leg. In addition to managing the scheduling, it supports maintenance, crew management, and optimizing flight operations.
The product management team works closely with the flight department to outline all the test procedures and processes. For example, on the circumnavigation, we wanted to validate as many beams as possible by confirming they connected effectively with the antenna/terminal system, adequate speed/bandwidth, and simultaneous streaming sessions were possible. We stressed the system and its capacity, and the data is typically received in real-time and analyzed by the testing and product teams on the ground. We have flown hundreds of hours during our testing process across all our aircraft.
At the time of the tests, is the aircraft used to make customer demonstrations on demand?
Testing and customer demonstrations are separate flights. However, we are constantly monitoring our data transmission to establish any potential outages and to continue improving and enhancing the system.
What are the next technological evolutions that you will implement in the aircraft?
The following testing on the aircraft will be for the PS Ka-band, which will begin in early Q4 of this year, and we are already in advanced development of an electronically phased array, fuselage-mounted antenna, which will bring robust connectivity to a broader range of aircraft sizes including light jet categories like the Embraer Phenom 300. This opens a whole new spectrum of connectivity options for smaller aircraft that can maximize the benefits of connectivity for operations, maintenance, health management and asset value retention.
We've also noted that several customers have requested a combination of Ka-band and Ku-band terminals on their airframes to maximize connectivity at all times. As the appetite for data increases, the redundancy of a dual system integration demonstrates just how much priority customers place on connectivity and the need to always be connected.